About LA Waters: Your Trusted Source for Water Delivery in New Orleans
About LA Waters: Your Trusted Source for Water Delivery in New Orleans
As a  high-quality water delivery service provider in New Orleans, we're dedicated to providing great-tasting water and exceptional customer service to our residential and commercial customers throughout the region.
We're committed to delivering on our customers' needs with the highest quality customer service. We understand that our customers rely on us for their water delivery needs, and we take that responsibility seriously. That's why we've built our business on a foundation of exceptional customer service, making it easy and convenient for our customers to get the water they need, when they need it.
Our drivers are trained to deliver your water right to your doorstep, and our delivery services are designed to be prompt and reliable. Whether you're a residential customer or a business customer, you can count on us to provide you with the highest level of service and support. We're dedicated to making your water delivery experience as smooth and hassle-free as possible, so you can focus on the things that matter most to you.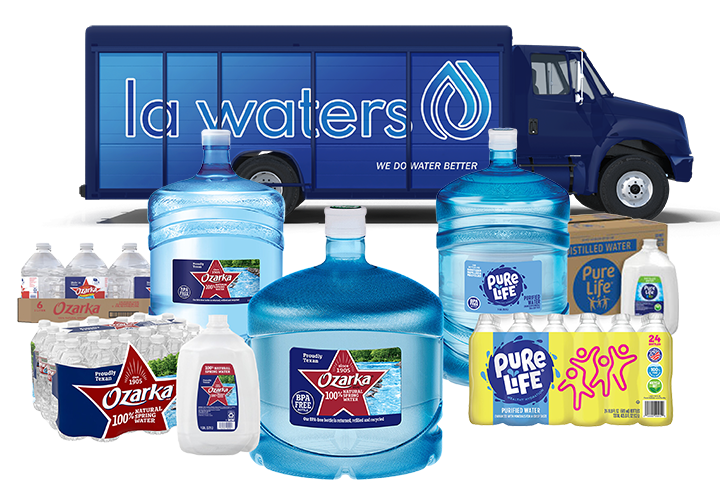 Integrity, sustainability, efficiency, quality, and community are the core values that drive our team each and every day to excel in providing our customers with the best experience we can deliver. We believe in conducting our business with honesty, transparency, and respect for the environment.
We believe in providing our customers with the best in class water delivery experience. Our commitment to efficiency allows us to deliver prompt and reliable service to our customers, ensuring that you receive your water when you need it. Our focus on quality ensures that we partner with leading brands such as Ozarka and PureLife and are always of the highest standard, so you can enjoy great-tasting, refreshing water that meets your expectations. We're passionate about delivering exceptional service and quality to our customers, and it's something we take pride in every day.
Water Delivery in New Orleans
We're a trusted source for water delivery in New Orleans, providing a wide range of water products to meet the unique needs of our customers. From home water delivery to office water delivery, and emergency other bulk water delivery services, we've got you covered. We're committed to providing our customers with the highest quality water products and exceptional customer service that sets us apart from the competition.
Convenient and flexible delivery options:
Our home water delivery services are designed to be convenient and flexible, allowing you to enjoy great-tasting water in the comfort of your own home without any hassle. We offer both recurring deliveries and one-time orders, so you can choose the option that works best for you.
Premium quality water products:
We offer a range of premium quality water products to meet your needs, including Ozarka Spring Water and Pure Life Drinking Water. Our water products are carefully selected to ensure that they meet our high standards for quality and taste.
Reliable and efficient delivery:
Our delivery team is trained to deliver your water directly to your doorstep with efficiency and care, ensuring that you always have access to the water you need when you need it.
Save time and effort:
With our home water delivery services, you don't have to worry about carrying heavy water cases and bottles from the store or making trips to restock. We take care of the delivery for you, so you can focus on the things that matter most to you.
Locally owned and operated:
We're a locally owned and operated business based in New Orleans that's dedicated to serving the needs of our community. When you choose LA Waters, you're supporting a local business that cares about your satisfaction and well-being.
Contact Us
We're dedicated to providing our customers with the best possible water delivery experience in New Orleans. If you have any questions about our services or would like to sign up for water delivery, please don't hesitate to contact us today. We look forward to hearing from you!
Just started receiving ozarka bottle water from la waters they were very professional and first impression good.